Your DIY survey solution
Congratulations! You've found a surprisingly easy to use platform where you can…
create

questionnaires

in no time
reach a

panel of respondents

from UK, France, and Italy
enjoy all the perks of

over 20 years' expertise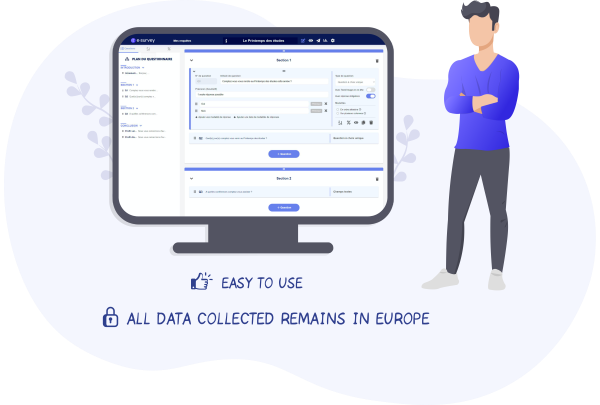 OUR ALL-IN-ONE SURVEY PLATFORM
e-Survey is…
A full-scale platform that's easy to use for managing all your surveys

Read on...

A reliable, ultra-qualified, triple-opt-in panel for quality answers in a couple of clicks

Read on...

Built on over 20 years' expertise in market research, acknowledged by numerous marketing decision-makers

Read on...
Your 3-step survey
1
CREATE YOUR SURVEY: IT'S 100% FREE
Create an account and your first survey on e-Survey. No subscription needed: it is totally free and unrestricted.
COLLATE YOUR ANSWERS
Up to 250 respondents free
Above 250 participants in your survey, the PREMIUM plan is required
Share your survey with your contacts, or with our panel of respondents.
2
3
REAL-TIME RESULTS
Watch your survey progress in real time, then start analysing it with the help of our tools: export the raw data in various formats: frequency tables, graphic sorting, cross tabulations, sub-populations, etc.
OUR PANEL OF RESPONDENTS IN UK, FRANCE & ITALY
Respondents available at all times
800.000
That's how many consumers we have on our panel – in the UK, France, and Italy – ready and waiting for your surveys!
Our priority: reliable panelists and answers
All answers are stored on a secure server in Europe
Consent is obtained 3 times on registration:
Our panel is triple opt-in!
Each panelist confirms their wish to join our panel and answer surveys on 3 separate occasions: consent in the sign-up form, confirmation of their request to sign-up by email, then completed by a final confirmation by SMS
PROFILE PRE-QUALIFICATION
We have more than 180 pre-targeting criteria:
Our panel is ultra-qualified!
Panelist profile data is routinely collected on a voluntary basis, so you select only those profiles that are relevant to your survey.
RESPONSE CONTROL IN EVERY SURVEY
To ensure quality responses, we use both automatic and manual control procedures: automatic response-time calculations, response congruency tests, open-answer quality control, trap questions, etc.
PANELLIST FOLLOW-UP OVER TIME
Each panelist is monitored from survey to survey using a confidence score out of 10: panelists are given a score of 10/10 on sign-up, which decreases each time a questionable answer is given (from -1 for questions we consider were answered a bit too quickly, to -10 for written answers such as "xwrcftz"). Panellists whose score is <10 are recruited less often and subjected to enhanced vigilance. Those scoring 0/10 are out, once and for all.
A SOLUTION FOR ALL
Whether you are...
Market-research institutes
Market-research managers, consultants, pollsters :
Group all your online fieldwork onto a single platform, program your questionnaires yourself, reach a panel of respondents in just a few clicks and simplify your results' analysis.
Marketing specialists
Marketing and sales managers, product managers, consultants :
Whether advertiser or agency-side, you can do satisfaction surveys or consumer studies on your client databases on our panel, using one platform.
Universities / Researchers
Universities, business schools, research institutes, lab lecturers, researchers, post-grads or post-docs :
E-Survey makes the collation of reliable quant data for your research and trials as simple as possible Bonus point! We can adapt to administrative requirements.
Entrepreneurs / Business owners
New ideas or business models needing testing :
Analyse your future market by interviewing your potential customers! Do your surveys or polls among your own network and/or our panel of respondents.
Make the most of over 20 years of expertise in market research
Behind our e-Survey platform: the MIS Group market-research institute
Our institute has been working with research and consultancy firms, advertisers and major brands, schools and universities, entrepreneurs and business leaders for over 20 years, helping them conduct their qual and quant research.

Out team of consists of over 50 specialists in research, panels and digital marketing: research managers, project managers, IT developers, web designers, etc.