Our survey platform
CREATE QUESTIONNAIRES, GET ANSWERS, ANALYSE RESULTS
Don't you like it when things are simple?
So do we!
Our platform was designed by market-research specialists, then tried and tested on both naïve and experienced profiles. Our objective is the same as it always was: to offer a full-service solution as easy to use as possible.
Take a look at the results...
Create a free account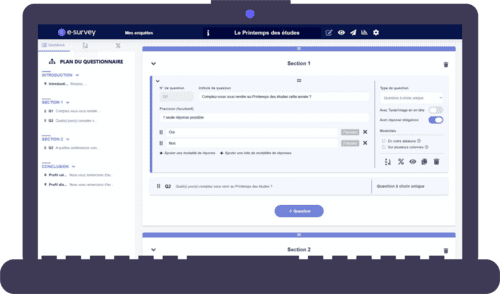 A solution for everyone
New to market research?
Or an expert in the industry?
Whatever your background, everyone is welcome!
New to market research?
Or an expert in the industry?
Whatever your background, everyone is welcome!
e-Survey has identified 4 main types of users on our platform:
Market research professionals: research managers, project managers, pollsters, etc.
Marketing specialists: marketing managers and advertiser salespeople, product managers, project marketing managers, marketing agencies and consultants, etc.
Researchers & Universities: universities, business schools, research institutes, lab lecturers, researchers, post-grads, post-docs and students
Entrepreneurs / Business owners: from those at the new idea stage to those already in business and looking to launch a new product or service
Do you see yourself in any of these profiles?
It's your turn to try our platform:
Sign up here!
Typical functions
12 TYPES OF QUESTION
Select from a wide range of questions to create customized questionnaires:
Single choice question ,Multiple choice question ,Single choice table ,Multiple choice table ,Single image choice ,Multiple image choice ,Evaluation scale ,Ranking ,Text fields ,Long text ,Digital field ,Form
QUESTION REDIRECTS
Integrate plain or advanced redirects into your questionnaire to redirect respondents to specific questions depending on previous answers.
QUOTAS
Set group or individual sampling quotas on answers which, once reached, automatically exclude further respondents.
ACCESS TO A PANEL OF RESPONDENTS
At e-Survey, we have our own panel of respondents! So it's quick and easy to get answers from our panel, without the middleman, and at very affordable prices.
FILTER RESULTS
Filter results according to precise date ranges and/or respondent status (validated, disqualified or lapsed profiles) in order to compare responses from different time periods, for example, or identify questions generating the most dropouts (stumbling-blocks).
SUB-POPULATION ANALYSES
Create sub-populations to isolate certain respondent profiles (according to one or more characteristics) and observe their answers. This will allow you to ascertain whether these profiles have specific behaviours or needs compared to the rest of the respondent population.
MANAGE YOUR TEAM
With a PREMIUM plan : create your own e-Survey team, invite colleagues or stakeholders to join, and share your surveys with them to build questionnaires and conduct data collection together.
GUARANTEED GDPR COMPLIANCE
Since GDPR (General Data Protection Regulation) came into force in 2018, our team of specialists has focused on "privacy by design" (protection of personal data from project inception), and e-Survey was developed according to this very principle:
All the data collected on our site (platform, questionnaires, sign-up and contact forms) is stored on a secure server located in France.
Our survey respondents have access to our Confidentiality Policy on each of the questionnaires, and may also flag any abuse if they consider any questions or content break the rules.
Would you like to try all our functions?
Buckle up! This is where you start:
Sign up here!